Two Churches
The two parish churches are uniquely Lakeland churches nestling into the surroundings; humble dwellings as Hartley Coleridge said of Wythburn church, yet each beautiful in its own distinctive way.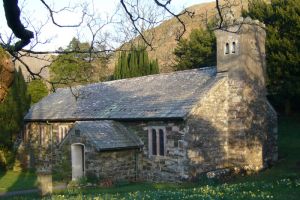 St Johns in the Vale Church
St John's-in-the-Vale Church
This beautiful little church is set up on the pass between High and Low Rigg which lies in the centre of the parish.
With joy thy people come

To this Thy mountain dwelling


H. D. Rawnsley
This church is first mentioned in1554 as "the chappell of Saynte John", and must have been in existence for some years before this. Indeed, there is the possibility that there may have been a chapel since the 13th century founded by the Knights Hospitallers. The present building dates largely from 1845 when much of it was rebuilt, and there have been further changes to the interior since then. However, it still retains some of the seventeenth and eighteenth century woodwork. Although St John's was a chapelry in the large medieval parish of Crosthwaite, Keswick, it became a parish in its own right in 1863. Weekly services are held here.
---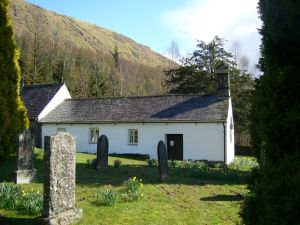 Wythburn Church
Humble it is and meek and very low,

And speaks its purpose by a single bell;

But God Himself, and He alone, can know

If spiry temples please Him half so well.

Hartley Coleridge

There has been a chapel at Wythburn since at least 1554. Parts of the present building date back to 1640, but the chapel was rebuilt in 1740, and this is substantially what we see today, if we exclude the more modern chancel which was added in 1872. Inside the furnishings are 19th century, but the original old oak roof timbers still survive, as do the slate flags which pave the floor. Like St John's, Wythburn was a chapelry of Crosthwaite, Keswick, and became a parish in 1862. But in 1879, Manchester Corporation received permission from Parliament to turn the valley of Thirlmere into a reservoir, and this completely changed the lives of those who lived there. Now there are hardly any residents in the parish, but services are still held once a month from June to September.