Blind Charlie
Another discovery – the story of Blind Charlie (1844-1907)
[The photo and much of the information on this page are courtesy of Steve Scott, Charlies great great grandson ]
Charles Robinson was born at Snipes How, in Naddle, in June 1844 and baptised at St John's-in-the-Vale church on 25th June. Snipes How has long been abandoned, but the remains of the buildings can still be traced in the corner of a field up the fell behind Honey-pot Wood between Brackenrigg and the Vicarage on A591. It was just a small holding, and the Robinson family was almost certainly the last family to live there. They moved to Keswick soon after this, but eventually came back to this parish to live at Brown Beck Cottages. In 1872 Charles married Mary Ann Gee in Ulverston. He himself, worked as an iron ore miner at Urswick, which is not so far away; perhaps this explains how they met. They had seven children, the last one, a daughter, Lily Robinson, was born on 22nd August 1894. She was the great grandmother of Barbara Lightowler, who now lives in Keswick and will be known to many of our parishioners.
In 1884 Charles was living at Brown Beck Cottages when disaster struck. He had already had one serious accident in 1881 working at Threlkeld quarry when an explosion severely shattered his left hand and arm, and his face and eyes were badly hurt. On this occasion, the Keswick Guardian reported that "it is hoped he will not lose his sight." However, in January1884, this time at Greenside mine, he was injured again in an explosion and "was dreadfully cut and bruised on the head and face" and this time he did lose his sight; it is said that the doctor to whom he was taken on this occasion was drunk, and his blindness was partly blamed on the clumsiness with which he was treated.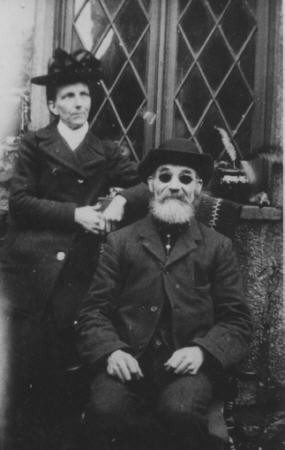 Charles had also been the sexton at St John's-in-the-Vale church. Another skill he had was the ability to play the concertina, and in the darkness of his despair, this came to his aid, and a poem, written by the husband of Elsie Robinson, one of Charlie's granddaughters, tells us,
"And so Blind Charlie walked the road
From Thirlmere to Keswick Town:
And many a laughin' waggonette-load
collected me half–a-crown".
So this is what Blind Charlie, as he was known, spent his time doing. He also played the barrel-organ, entertaining children and old people alike, going to Friar's Crag, or the Boat Landings, and playing "for the holiday-folk",
"And some would dance to my merry notes,
And pay me wi' coin and a joke,"
Sometimes he played on Naddle Bridge in order to earn a little money..
Charles' uncle John lived next door at Brown Beck Cottages. John later moved to Piper House, where he died in February 1899.
Brown Beck Cottages
(The part nearest the camera is a recent addition)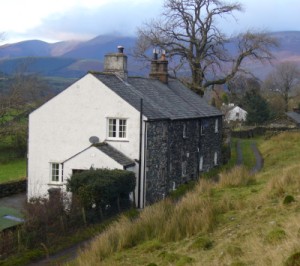 All the three Brown Beck cottages were at this time occupied by members of the Robinson family. Charles and Mary Ann were still living at Brown Beck Cottages in 1901, but they moved later to Threlkeld, and he died at Merle Bank on Feb 14th 1907. He is buried at St John's, however. From his life we gain some insight into the dangers many of the people in the parish faced in the mines of the time, and also of the fortitude of those who lived here before us.