John Richardson,

Builder, Teacher and Cumbrian Dialect Poet 1817-1886

John Richardson has been described by Frank Carruthers in his book "Lore of the Lake Country" as "perhaps the most famous son of the parish". John would surely have been astonished to read such a thing, since he was a humble man. But he has recently attracted chapters on his life and work, not only in "The Story of St John's-in-the-Vale" by Geoffrey Darrall (details on this site), but also in Volume One of the "Keswick Characters" series, published by Bookcase in 2006.

John is now chiefly remembered outside the parish as a poet and writer of dialect verse and prose, but inside the parish he is revered as the man who had a hand in re-building the church of St John's-in-the-Vale, building the church school next door to the church and finally, building the vicarage. He subsequently went on to become the teacher in the school he had built – no mean achievement for a man who had been educated in the local church school by the Curate, the Revd Edward Wilson (1806-1854) and John's formal education probably ended at the age of twelve.

But John was no ordinary man, and he continued to learn all his life, writing scholarly articles on various topics, including one on "The Cumberland Dialect", and finally producing two volumes of poems with an introduction on the changing social scene of his time, which is now a valuable resource for those interested in social history.

This was only one side of John's character, however, and there was nothing he loved more than the quiet reflection of the dedicated fisherman as he cast his hook into the local St John's Beck. This was how Canon Hardwick Rawnsley, a co-founder of The National Trust and celebrated Lakeland writer himself, remembered him in his book "Literary Associations of The English Lakes".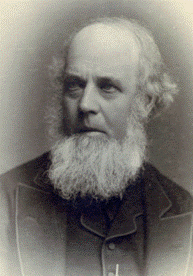 "As we talk he is at our side. He is well and strongly built. His face is the face of an elderly man who has found the peace that is bred from adversity, Fine open forehead he has, lined with care but most with thought, grey, "Viking" eyes that have a dreamy far-away look about them; a face solid and reposeful enough, but filled with soul and with benevolence; a mouth that is closely set, except when by a twinkle in the eye, you feel that man has laughter at his heart. He is a true son of Isaac Walton, and has been fishing all the way up the river Bure from his home, Bridge House."



Photo courtesy Keswick Museum and Art Gallery

John Richardson was born in 1817 at Stone Cottage, Naddle, near Keswick, Lakeland's northern centre. He was one of seven children of Daniel and Mary Richardson. His father was a "waller" (builder of Cumberland's dry-stone walls) and a mason, and John initially followed his father in the family business. John was 24 when he married Grace Birkett of "The City" Wythburn, a dwelling now lost under the waters of Thirlmere, the reservoir created by Manchester Corporation at the end of the 19th century (see "Wythburn Church and the Valley of Thirlmere" ). John and Grace had 8 children – families were large in those days – (and two others died as babies), somehow bringing them up in the two tiny cottages, still jointly occupied with John's parents. Sanitation was provided by an outside privy, and water had to be carried from the beck 100 yards away.

This is only a brief introduction to this remarkable man and to a few of his poems. It was in 1871 that he published "Cummerland Talk: Being Short Tales And Rhymes In The Dialect of That County, Together With A Few Miscellaneous Pieces In Verse". No doubt, pride of place will be accorded to "Its Nobbut Me", which is said to be based on his courtship of Grace, and the story is told as though by her:

Ya winter neet; I mind it weel,
Oor lads 'ed been at t'fell,
An' bein' tir't, went seun to bed,
An' I sat be messel.

I hard a jike on t'window pane,
An deftly went to see;
Bit when I ax't "Who's jiken theer?"
Says t'chap, "Its nobbut me!"


We find here typical characteristics of his writing: a wry humour and a down to earth realism, which are essentially Cumbrian, and which seem to be suited by the dialect he uses. He did not always write in dialect, and the introduction to "Cummerland Talk" is in prose rather than verse. (Those who wish to explore John's poems in depth can obtain a reprint of "Cummerland Talk" from Kessinger Publishing's Legacy Reprints).

In his poem called Blencathra, he pictures himself standing on the lofty summit of this mountain which he would see from his home every day:

"I stood on the summit of lofty Blencathra,
And gazed with rapture on mountain and vale;
As far as the eye could reach endless variety
Of hills intermixed with streamlet and dale!"

Beyond is the verdant Saint John's in the valley,
Spread out like a picture of beautiful sheen,
Still more to the south, lies the clear lake of Thirlmere
Like a sheet of pure crystal with emerald framed round;
And beyond, in the distance the valley of Wythburn."

John loved every inch of the area he knew so well. This poem incidentally, is not in dialect.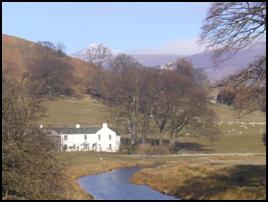 Bridge House, St John's in the Vale
BridgeHouse, John's home in his later years, lies in the Vale of St John just down below the fell on which the church is placed.

It may well have been extended since John Richardson lived here. In the foreground we see the Bure, the river through the Vale mentioned by Canon Rawnsley, but now called St John's Beck.

John Richardson never abbreviated "Saint" to "St"; he always called himself "John Richardson of Saint John's",and perhaps we should respect his wishes in this respect too. John was buried at St John's-in-the-Vale church on May 4th 1886, four days after he died.