Book Launch
'Rediscovering Our Past', the new book on the history of the houses in St John's, Castlerigg and Wythburn, was launched at Thirlmere Recreation Hall on Saturday 11th February at 2-pm.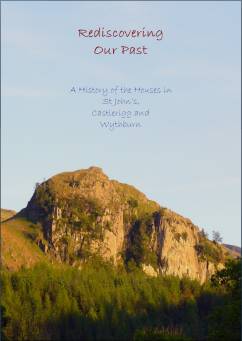 Writing of the book, Dr Robert David says:
"Rediscovering Our Past is a triumph. The judicious mix of information on the buildings alongside the histories of the families who have lived there, provides fascinating reading, and will give both the resident and the visitor a sense of the community that is the parish of St John's, Castlerigg and Wythburn."
The book is generously illustrated with old and new photographs, drawings, aerial views and old maps and documents, and there are, as well, reminiscences by older residents of times past.
Many people have contributed to the book which has been edited by Geoff Darrall, author of the companion books on Wythburn and St John's-in-the-Vale.
Copies may be obtained from the editor, Geoffrey Darrall, Piper House Naddle, Keswick CA12 4TF, E-m:geoff.darrall@btinternet.com
A donation of £7-50 plus p&p (£2) will secure a copy by post.